By Raina Kadavil
Overview
Project Goals | This project proposes to educate young people in Westchester about sustainable development and sustainable practices through both education and a hands-on project. Students will be encouraged to learn about the work of the United Nations Educational, Scientific and Cultural Organization (UNESCO) and prepare to discuss during a day-long Model United Nations conference, then come together for an in-person tree planting event in a part of Westchester that has undergone excessive urbanization.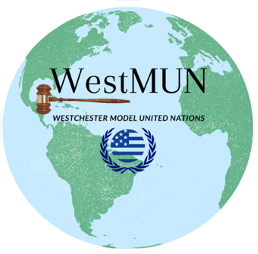 Background: My Community | White Plains alone has a population of 57,925 and a median age of 37.8. 61% of the population is white, 12% are Black, 7% are Asian, 16.5% identify as "Other" and 3.5% identify as 2+ races. 49% have a bachelor's degree or higher, 32% of residents are foreign born, 44% of residents speak a language other than English, 69% participate in the labor force and the median household income is $82,760. This is considered a very diverse neighborhood for "upstate" New York.
Sitting just above New York City in a coastal zone, White Plains and Westchester as a whole are in danger from climate change. Map Note: This data visualization map shows how sea levels are expected to rise in New York City by the year 2100 if they continue at the level they progress at their current pace. You can begin to see White Plains and the surrounding area to the north of the map. This data visualization indicates that 15% of New York City's population, or 1 million people, will be displaced by coastal flooding. According to New York's Department of Environmental Conservation, annual average temperatures statewide have risen 2.4 degrees F since 1970, overall precipitation has increased since 1900 with more rain and snow in the winter and less rain in the summer, and see levels have risen more than a foot since 1900. Already, during the pandemic, we see an exodus from New York City to Westchester that has dramatically altered the landscape of White Plains – notably, the loss of small businesses and the building of multitudes of high-rise luxury apartments. If a loss of land causes even more people to move out of New York City, and permanently, into an upstate area that is also diminishing in size, I believe that the landscape of White Plains would follow the current trend on an escalated level. It's also commonly said today that White Plains is "trying to be a smaller New York City" – if sea levels damage New York City, it's possible that White Plains will attempt to rise to that "challenge" even more and change permanently.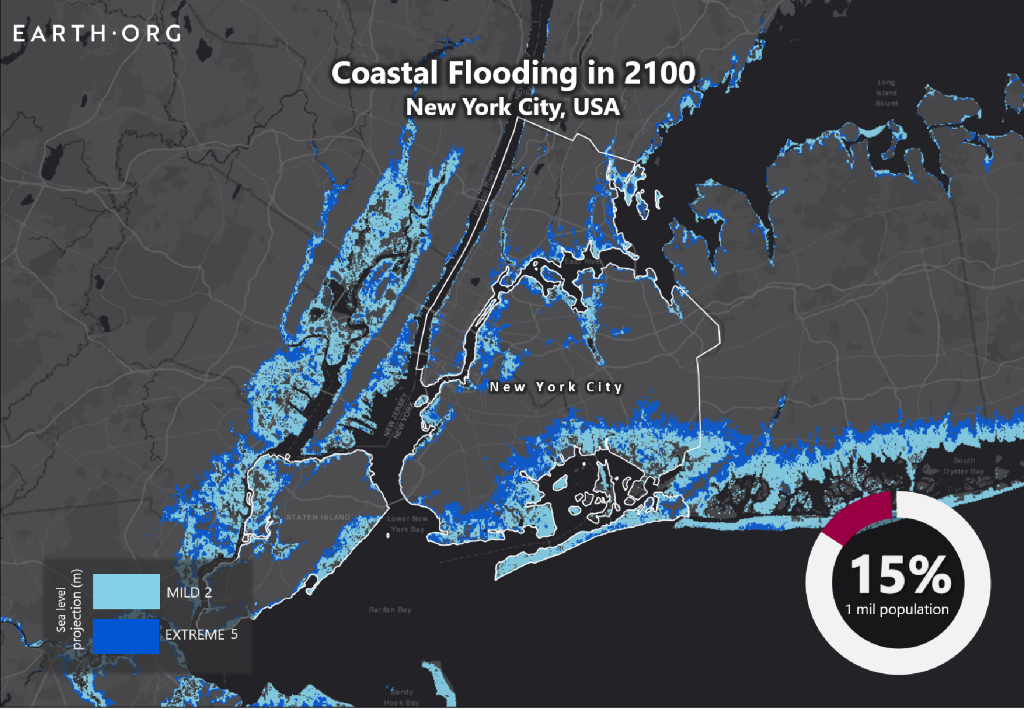 According to the Daily Voice, approximately 295,103 residents of New York City fled the city between March and October of 2020 as a result of the Covid-19 pandemic. 15,850 of them moved to Westchester, the county in which White Plains is located. As a result, Westchester County saw a 112% increase in home sales in July. The rise of high-rise apartments in Westchester is nothing new, according to Crains New York. However, property sales for the purpose of apartment building and the non-natives moving into said apartments has accelerated during the Covid-19 pandemic, while some long-time Westchester natives are being pushed out. In order to make space for these new apartments, trees are cut down and parks have even been demolished in certain parts of the county. From a sustainability standpoint, this more urban form of housing is great; however, from a gentrification standpoint (including the fact that there are often conflicts around including affordable housing units within these new apartments), this may be concerning. This phenomenon is making Westchester and especially White Plains unique as a suburb with a skyline.
Background: The Cause | The United Nations Educational, Scientific and Cultural Organization (UNESCO) is an extension of the UN General Assembly focused on building peace through international cooperation in Education, the Sciences and Culture. UNESCO has a unique role to play in strengthening the foundations of lasting peace and equitable sustainable development. Advancing cooperation in its respective areas holds strategic stakes at a time when societies across the world face the rising pressures of change and the international community faces new challenges.
Of these many challenges, climate change is the most defining issue of our times that threatens cultures across every corner of our planet. Increasing fires, floods, droughts, desertification and ocean acidification are threatening both cultural and natural heritage, while rising sea levels, particularly in the world's Small Island Developing States (SIDS) put entire ways of life at risk. A defining contributor to global carbon emissions disproportionally comes from developed and industrialized nations. The ethical dilemma of this problem is that the highest contributors to climate change will not bear the brunt of the problems induced. Social inequality will undoubtedly continue to disrupt the livelihoods of already marginalized communities who have contributed little to global emission.
The United Nations through UNESCO and their International Panel on Climate Change (IPCC) are making collaborative, multinational efforts to drastically lower carbon emissions and limit the worst effects to come. Most at risk are world heritage sites already affected by changes in local climates. Machu Picchu in Peru is facing increasing landslides that threaten the Incan Estate. In the Cape Floral region of South Africa, shifting weather patterns have introduced new invasive species. In total, UNESCO is measuring 83 world heritage sites being threatened by climate change.
With the global community already beginning to experience the initial effects from climate change, developed nations must lead in addressing global carbon emissions. If conditions continue to degrade, many UNESCO world heritage sites may be lost –– devastating the cultural identity of international communities.
This project aims to teach students that there is significant work that can be done in our own communities in order to achieve these global goals.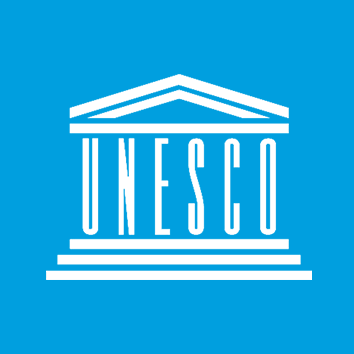 Major CityLab Themes Addressed | Sustainable Habitat: The planting of more trees in our community contribute to the sustainability of our community's habitat, attracting more wildlife and allowing more carbon dioxide recycling.
Livable Cities, Healthy People: The planting of more trees in our community will encourage people to spend more time outside, making them healthier people thanks to exercise and time spent outdoors. The existence of more trees, parks and green spaces will also make the city more freely livable and preserve the community in the long run, preventing soil erosion and more.
Empowered Citizens: It is important to build empowered citizens from a young age – the Westchester Model United Nations Conference seeks to do just that. We hope to educate young people about climate change and build a thoughtful passion in them to preserve the environment and do right by our planet that they will carry with them into adulthood.
Global Megatrends: This project relates to Sustainable Development Goals 11 (Sustainable Cities and Communities), 12 (Responsible Consumption and Production), 13 (Climate Action), 15 (Life on Land) and 16 (Peace, Justice and Strong Institutions). The Sustainable Development Goals were created by the United Nations to provide a framework for how the entire world can work together to better our planet and our people over the course of 15 years (2015-2030). They were determined thanks to priorities voted on by people all over the world via an online quiz and even paper quizzes distributed in remote areas. By teaching about and from the viewpoint of UNESCO during the Model UN conference, we will certainly capture global megatrends relating to sustainability.
Neighborhood/Community | Westchester is the perfect place to institute programming like this for many reasons. For one thing, Westchester has a very active United Nations Association chapter that works hard to engage and educate young people in sustainability. Many schools in Westchester are also leaders in the fight to "go green," with the Port Chester school district being the first in New York State to become completely carbon neutral. Finally, Westchester has recently undergone a great deal of urbanization with luxury apartments popping up all over the county, often replacing green spaces and prompting deforestation. There is a great need for replanting of trees in many parts of Westchester and getting young people involved in this planting can ensure that the trees are preserved for many years to come by inspiring young people to fight to preserve them.
Challenges | This project addresses the key livability challenge of habitat sustainability and, secondarily, empowered citizens. Westchester schools have been increasingly prioritizing bringing sustainability education to their students, but I am proposing a fun and hands-on way to educate students and build the groundwork for long-term engagement in their community. I have been engaged with this work and these methods for a very long time: I have been running Model United Nations conferences to help teach students about topics like sustainability since I was a freshman in college and have been involve in bringing sustainability education to Westchester for two years as a Board member of the United Nations Association of Westchester – my sponsor – and during my run for White Plains Board of Education.
Project Overview | While Westchester continues to urbanize, it's clear that the citizens of Westchester heavily prioritize sustainability and sustainable practices. We have a central recycling plant for materials that are not picked up from homes like cardboard and batteries, and we have a new centrally located composting site for food scraps. Therefore, sustainability education for our community's young people and local tree planting are well aligned with the community's long-term livability goals.
Project Deliverables | The primary deliverable for this project is the inaugural Westchester Model United Nations conference itself and student participation in the conference. Another significant deliverable is the curriculum developed and distributed for the conference. My third deliverable is the planning for the tree-planting event in follow-up, which is schedule to take place soon.
Project Team | In order to successfully execute this project, I have put together a team of experienced Model UN Chairs and Secretariat members, and United Nations Association Board members. In addition, I am bringing together a range of local government officials and leaders from Sustainability Westchester for the tree planting event. What unites us all is a passion for protecting our planet and local environment.
Project Management & Work Plan | The sponsor was very involved with the Model United Nations conference and community members will be very involved with the tree planting event, encouraged to join us and plant trees and meet with local officials to voice their own opinions about the importance of sustainability and how we can enact it in our community. We will have weekly check-ins with all stakeholders via Zoom meetings.
June 26th | Deliverable 1: Westchester Model United Nations Conference
Background | I have thirteen years of experience in hosting Model United Nations conferences: I have debated as a delegate, developed Model UN curriculum, run conferences as a Secretariat member or even as Secretary-General as far away as Beijing, and coached a high school team for four years. For this conference, facing a group of students who do not have any Model UN experience but are all passionate about the environment, I brought all of these skills together. I was also fortunate to bring together a team of seven UNA Young Professionals and college students with varying levels of MUN experience to support me.
Methodology | Steps to creating WestMUN over the course of 2 months:
Week 1: Created curriculum that described UNESCO and its purpose, as well as UNESCO's role in the current climate crisis (partially detailed in the Overview>Background section).
Week 2: Opened registration for the conference and conducted event marketing throughout Westchester schools.
Week 2: Hired a teach team to run the conference via the Hopin platform.
Week 3: Created a country matrix with countries that are particularly relevant to the issues at hand. I assigned these to students to research beforehand and represent their interests during the conference.
Weeks 3-6: Created a "How to MUN" guide and hosted group and 1-1 trainings for students who are new to Model UN or have questions to ask about the conference or proceedings.
Week 4: Acquired an opening speaker (Ambassador Okelo) and assigned my own team to give closing speeches and awards.
Week 6: Hosted the conference. On the day of, I presented an opening speech and then acted in a troubleshooting nature throughout the conference, helping the Chairs as needed, guiding the students in their resolution-writing and keeping time.
July 17 | Tree Planting 1.0
Background | For as long as I have been running service activities, I have preferred to pair education and action – as far back as middle school. I believe that students need an educational activity to truly understand why they should care about the issue and the options they have to make a difference, and then be given a pathway to actively make a difference, ideally in the form of a hands-on service project. In this case, I hoped to help students (and the larger community) make an environmental impact by planting trees in areas of Westchester that have been deforested and parks removed to make space for luxury apartment buildings and other urbanization projects.
While our sponsor organization, UNA Westchester, certainly prioritizes the fight against climate change (we even hope to make it the cornerstone of our UN Day event this September), there are also a number of organizations across Westchester that make environmental sustainability and the fight against climate change their number one mission. For this project, we hoped to partner with some of them, such as Sustainability Westchester and the environmental organization at Mercy College.
Methodology | We hope to host this event in two parts – one has already occurred (as seen in the accompanying presentation). We have first hosted the planting of just three trees, with just students in attendance so that we could learn how to most effectively plant a tree and prepare our roles and speaking portions for the larger event. It was also one the first occasion that most of us were able to meet in person after over a year of Covid-19 restrictions and resultant Zoom meetings.
We are currently planning for our second tree planting, for which we will invite local government officials, community leaders and press to participate and learn about the work that we are doing as well as the effects of irresponsible urbanization and the importance of trees in our community. Our plans for this event are as follows:
Set a date for the event that works for all organizations involved.
Invite additional sustainability organizations and school clubs from around Westchester.
Write and issue a press release about the event, and advertise it on all stakeholders' social media.
Develop a series of short speeches, borrowing from our Model UN climate change curriculum, to present at the event that will educate local people about the effects of climate change and what they can do on a person to person basis to counteract it.
Acquire the tree(s) and host the tree planting.
Future Planning & Implementation
As with all my work, my hope is that this programming can become sustainable. I plan to pass WestMUN on to other Young Professionals in the program who are passionate about Model UN and the Sustainable Development Goals and can continue educating young people about important causes in a hands-on way.
I also plan for the Westchester tree planting to be an annual event, and will discuss this with the Board of the United Nations Association of Westchester as well as the local government officials that we invite to the event to ensure that this kind of activism is ingrained into long-term sustainability agenda, including student participation and leadership every time.
My recommendations for future iterations of the conference and the tree-planting event are as listed below in the Outcomes & Learnings section.
I also hope to build on this momentum to increase sustainable practices and education in Westchester. Right now, Port Chester is the only school district in Westchester that has achieved carbon neutrality – our other school districts can do it, too. We can invest more time and citizen effort into park and nature preserve cleanups and raise awareness of our newly instituted cardboard recycling and composting centers – and institute them in cities where they don't exist yet. Most importantly, we can look critically at the ways in which we live our lives and run our local governments, and put pressure on our leaders to change things where we see room for improvement.
Outcomes & Learnings
WestMUN Outcomes & Learnings | There was both good and bad that came out of the virtual nature of the conference. On the positive side, while we expected only students from Westchester to register, we received registrations from students as far away as South Africa, India, Nigeria and Brazil because the conference was virtual. On the negative side, because the conference was virtual and we did not charge a fee given that it was our inaugural conference, there was no obligation to attend beyond their word and several students chose not to attend on the day of. It is also possible that some students in other countries struggled with access to the Hopin platform. For future Model UN conferences, I would like to host them via Zoom if virtual or at the United Nations itself, with a small fee to attend.
However, the students who attended did an excellent job writing resolutions, which was one thing I was nervous about going into the conference given that at least half of them were first-timers. Some of these resolutions are attached here.
For future conferences, I would like to diversify committees to include more issues and address Sustainable Development Goals. I would also like to host a longer conference, if in person, so that students have more time to write longer resolutions and receive feedback on them. If I am able to gather enough staff, I would also like to host a conference that includes Crisis Committees rather than just General Assembly committees, for more advanced delegates.
Tree Planting Outcomes & Learnings | This event is unique in that we had the opportunity to do a bit of a trial run, which makes me feel much more prepared for the community-wide event that will be open to the public. We now know how to effectively plant trees (which is more challenging than one might imagine) and we will hope for better weather next time (rather than humidity and rain). I look forward to introducing students as the leaders of this event and watching them teach our mayors, legislators and judges how to plant trees.
I think that when you go through the effort of planting a tree, you develop a greater appreciation for the things that we often take for granted as an eternal part of our communities. I still remember crying when I was ten years old when my mother had to cut several branches from a tree that stood in my yard, because the branches hung over the house next door. I believed that the tree must be in pain. Twelve years later, I shed tears more privately as the entire tree was cut down due to insistence from the neighbor. When you go through the effort of digging a deep hole, prying out roots and stones, studying the sapling, returning the soil and standing back to admire your new tree, you actively recognize that trees are not to be taken for granted – they take effort and love to grow, and they provide us with so much in return. I hope that this is what everyone takes away from this event.
Note: Imagery was often too large in file size to include on this site, so it has been included in the accompanying presentation instead.