The Coca-Cola Scholarship is an achievement-based scholarship awarded to 150 high school seniors eac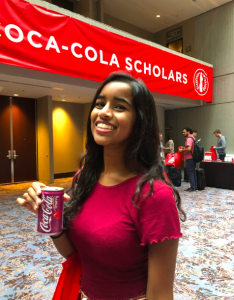 h year – which I received during my senior year in 2015. In Atlanta, I made many life-long friends and was inducted into a community of incredible people who prioritize service, innovation, and leadership above all.
With 6,000 Coca-Cola Scholars from 31 years, our community of Scholars has many stories of successes in spite of adversity and failures that inspires successes. I believe that these are stories that deserve to be shared, and that they are stories that many others outside the Coca-Cola community can learn from.
"Ignite Your Story" unites the stories of dozens of Coca-Cola Scholars from all ages, backgrounds, beliefs, and career paths to weave an anthology of true game-changers.
My colleagues and I are currently in the process of compiling the book. We plan for a release date of early 2020.