Let's change the world together.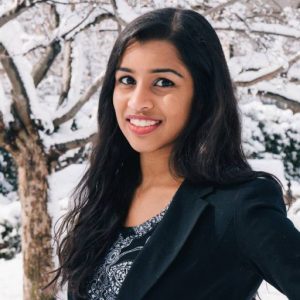 Welcome to my portfolio! I am an Indian-American woman who grew up in New York and studies in Boston. I am a writer, traveler, dancer, and non-profit co-founder.
I am a junior at Boston University studying Economics and International Relations with a focus on Security Studies in the Middle East and North Africa. At BU, I serve on the Executive Board of the International Affairs Association and am the Editor-in-Chief of the International Relations Review.
I was the co-founder and President of Global Ambassadors, an organization focused on educating students K-12 about the Sustainable Development Goals through art and technology, and bringing fresh water facilities to communities in Kenya. Today, I act as a consultant for the organization in New York.
I am also the author of "The Voice of Thunder," a Young Adult Fiction novel of approximately 500 pages. I am currently working on publishing a sequel, "The Dying of Empires," and am searching for an agent to represent me.
I am a global citizen: I have worked in New York, Boston, London, Sydney, and the United Nations; run or engaged programs in New York, Boston, Sweden, London, India, New Zealand, and Kenya; and traveled globally from Iceland to Mexico to Singapore.
I have been recognized for my work by the Coca-Cola Foundation, Zonta International, and Claes Nobel, among others.
If you are interested in reaching out to me, please email me at rainakadavil@gmail.com. You can also see my LinkedIn for more information, or find me @raina_kadavil on Instagram to follow my travels.