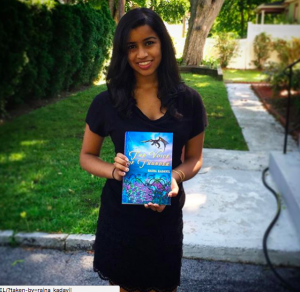 I wrote "The Voice of Thunder" over the course of my sophomore year of high school and published it in August 2015. I am currently working on writing its sequel, "The Dying of Empires," and am searching for an agent to represent me. "The Voice of Thunder" has been taken off the market until I can find an agent, but I hope to re-release it soon. I hope to publish a full series of five books.
"Fiery-haired, witch-eyed Zaara Theroux has all but resigned herself to the dull life of an Asterian princess when her engagement is suddenly interrupted by the elusive Jay Sattler, who has an irresistible proposition for her: he'll show her the world – the good, the bad, the beautiful – and free her from her royal captivity, if she promises to open her mind. Suddenly, Zaara's quiet, boring life is shattered and she is thrown into a world where not everything is as it seems: where dragons soar and breathe fire; where people like her are gifted with affinities for water, fire, earth, or air; where a rebellion is rising, seeking a justice that involves destroying her perfect world and everything she has been raised with…including the love of her life. As Zaara joins the rebellion, she learns more than she had intended about the strange and tangled history of the world she lives in and the role she herself has to play, as keeper of the rare fifth element, in preserving that balance between order and chaos in the mythical land of Asteria."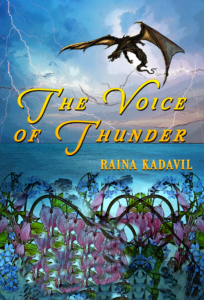 "The Voice of Thunder" is a Young Adult novel of 497 pages, and the first of a series of five. It was officially released by Ravenswood Publishing (Chimera) on August 5th, 2015.